When it comes to mailing services...we deliver.
Direct Mail doesn't have to be difficult, expensive or confusing.
With years of experience providing full-service USPS solutions, we will help you reach more customers and grow your business for less than you thought possible. How can we help YOU?
TARGETED DIRECT MAIL – Reach your ideal customer and choose specific consumers or businesses based on your marketing goals.
EVERY DOOR DIRECT MAIL – Advertise to your community for less! No mailing lists, permit requirements, or addressing required.
Reach Your Ideal Customers with Targeted Direct Mail
One of the greatest benefits of Targeted Direct Mail is its ability to reach your ideal customers without having to blanket every neighborhood.
Whether you have an existing mailing list or would like us to build one based on demographic metrics such as age, income, marital status, home ownership, and more, we can help.
Target by location, demographics, or specialized selections
Saveg money on printing, labor, and postage
Focusing on the best customers
Fast, Effective and Easy!
At Wilson Press & Mail House, we are dedicated to taking the maze of confusion out of Targeted Direct Mail campaigns. From strategy to design to printing to delivery, we will accommodate any size mailing. As your full-service mail house, we will…
Certify Addresses using USPS-approved databases
Print and Affix Addresses or Labels
Sort, Bundle & Tag
Deliver to the Post Office for added convenience
Our customers report an average of 35% savings on their mailing costs.
Turn Neighbors into Customers with Every Door Direct Mail®
Only 38¢ each — Printing & Postage included.
Use Every Door Direct Mail® (EDDM®) services to promote your business in your local community. Whether you're having a sale, opening a new location, or want to share coupons, we can help you send postcards, menus, and flyers to the neighborhoods and routes you select.
As your full-service mailing house, we'll handle everything — design, printing, route selection, and postage.
You can even use the EDDM Online Tool to choose desired neighborhoods and filter results by age, income, or household size.
How Can Every Door Direct Mail Help Your Business?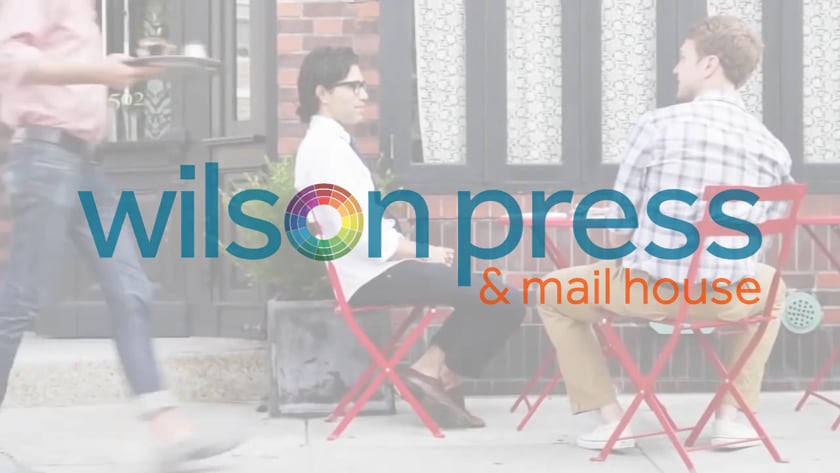 Design, Production, USPS Delivery, and Postage...we do it all.
Increase Your ROI
Research shows that increasing the size of your card can increase your response rate, which is why we go beyond a simple postcard. With our larger sizes, you'll have plenty of room to deliver your message to your customer.
No Mailing List Needed
With EDDM, there's no need to provide or purchase a mailing list. You choose where you'd like your mailing to go and we'll make sure the Postal Service delivers to the routes you selected.
No Postage Permit Required
You'll avoid any add-on Postal Service fees when using Wilson Press for your mailing campaign.
All Inclusive Packages
Printing, mail preparation, and delivery to the Post Office — completely hands-free and frustration-free so you can focus on growing your business.
We Make it Easy as 1, 2…that's it!
1 – Choose the size that meets your needs:
6.25″ x 9″

4.5″ x 12″

Other sizes available (please call for details)
2 – Kick back and relax…we will:
Assist you with the design

Print your piece on high-quality coated paper

Prepare the mailing and deliver to the Postal Service

PAY ALL MAILING COSTS
Request a Quote or Contact Us
Dear valued customers,
For efficient service, kindly request quotes or contact Wilson Press printing services via email at mail@wpress.com. Email allows accurate, tailored responses, while maintaining clear communication records. Thank you for choosing us; we look forward to serving you best.
Best regards, The Wilson Press Team